APPLICATION :
Foundry, alloy producer, scrap recycler.
Charging all types of furnace with an external well.
Rotary furnace, tilting rotary furnace FRIB, drier.
Furnace mounted on lift table.
CHARACTERISTICS :
Allows the rationalisation and optimisation at ground and other levels.
CAPACITIES :
To determine according to :
Furnace type.
Raw material type.
Required production rate.
OPERATION APPLICATIONS :
Adapts to our equipments, built for intensive operation with automatic control of the various processes dependant on the raw materials.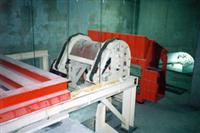 Tipper capacity 1 m³ x 2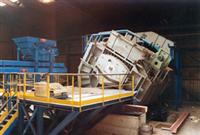 Skip hopper and automatic furnace charging with belt conveyor