APPLICATION :
For charging melting cells of TT 1000 to TT 4000 furnaces.
Charging with a bin with bomb doors.
CHARACTERISTICS :
Charging of the melting cell can be achieved in 2 minutes.
Energy gain and optimisation of safety.
CAPACITIES :
1,5 m³ à 7 m³
ingots => density 1,2 => 5000 kg maximum.
returns => density 0,4 => 2500 kg maximum.
OPERATING APPLICATIONS :
Adapts to vertical charging furnaces TT 1000 to TT 4000.
Allows the charging of 2 or even 3 furnace melting cells on line.
Essential for vertical charging furnaces.
Can be installed in the 4 axis of furnace melting cell (right, left, in front of, or behind).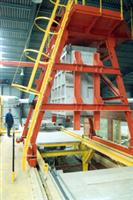 Charging system BCB 5000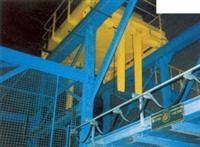 Bridge crane 8000 kg + BCB 6000